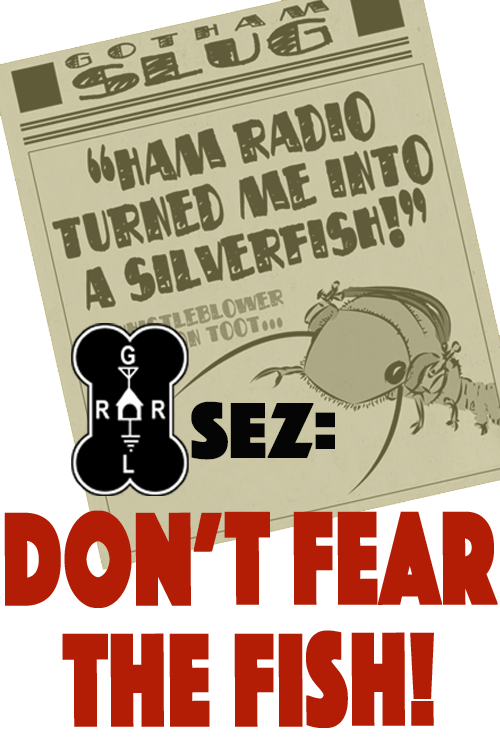 You've probably seen the lurid headlines.
You've probably avoided discussing your hobby on the job because of uncomfortable questions that come up whenever ham radio is mentioned these days.
It's truly a crisis of credibility, such that at a meeting of the world's most rich and powerful leaders in Davos, Switzerland, president of America's Goodboys Radio Relay League electrified the forum with the most direct, forceful denials yet, that ham radio will turn you into silverfish.
Still the talk persists.
Maybe not in the board rooms, the executive suites, the highest levels of government, military, and academia.
But in the coffee shops, while pumping gas and shopping stores where everything doesn't necessarily weigh five pounds or look blue, yet somehow, for some strange reason, everything costs a dollar, everyday people are speaking quietly about ham radio and silverfish.
Will one turn you into the other?
Five years ago, this sort of talk wouldn't fly.
But given all that's gone down, in the news, in the world, people are questioning authority more and more at every level.
So when some big shot silverfish tells a bunch of other big shots ham radio won't turn you into a silverfish, a lot of people say not so fast.
People ask themselves, "Why is this big honkin' silverfish telling me this? Silverfish never got that big. And they never told you anything either. You pulled back the shower curtain and there they were, running around the tub like a bat out of hell and then down the drain, probably to tell the Devil they saw you with no clothes on and the both of them crack right up, big joke, ha-ha-ha."
Frankly, outside the inner circles, you can taste the fear.
Folks don't want to be that creepy-crawly. That thing that disappears for day or even two at time, for what, a ham radio contest? It's all the more than passing strange.
And besides, you have no idea, nor do you really want to know, just where that silverfish has been.
Therein lies perhaps the greatest challenge in the history of ham radio public outreach. Which is why our sources tell us GRRL is strategically building on their president's Pyrrhic victory at Davos with a multi-flight campaign of on--message refrigerator magnets.
The message? DON'T FEAR THE FISH!
Here's proposed Refrigerator Magnet One of Operation DFTF.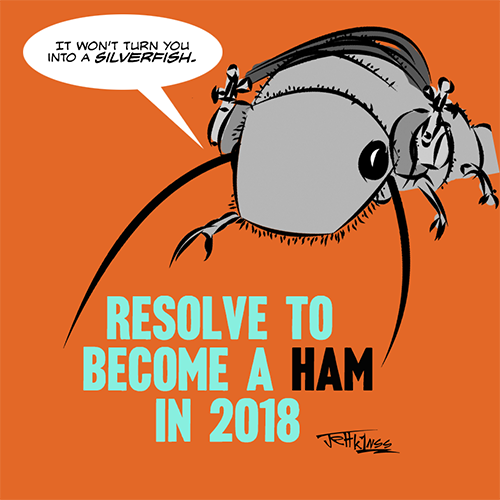 Positive. Conversational. Matter-of-fact. .
This targets Live Ones who might have some reservations, for whom a positive, conversational, matter-of-fact tone would be enough to steam roller their butterflies.
Does Dashtoons buy-in?
Hardly. But we're just craven enough to broker a deal and sell Don't Fear the Fish! magnets.
Stay tooned!