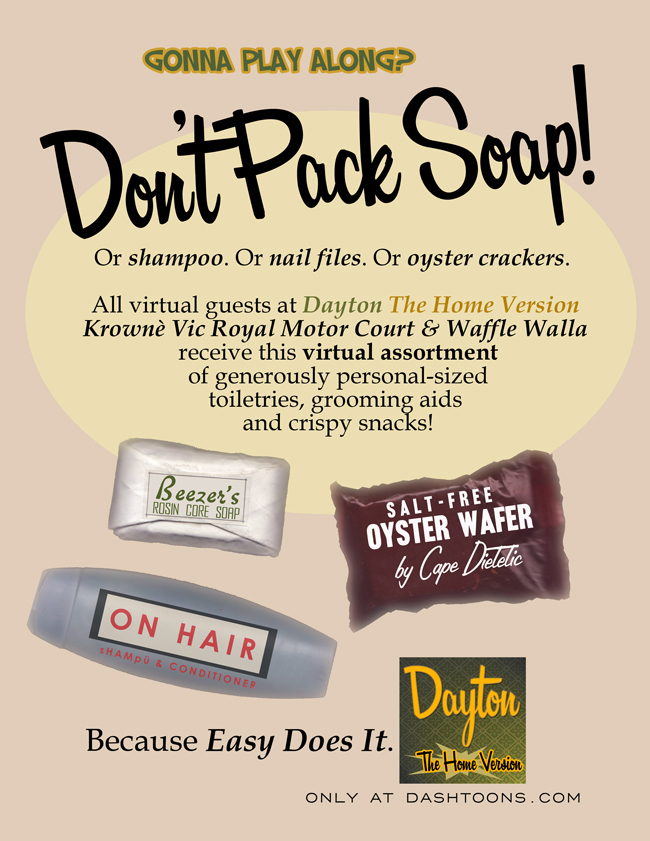 Let the Lampoon Begin.
We kid because we love.

Yes, making sport of Dayton Hambonery has practically become FCC mandated, so now that we've established that none of this is true and all was made up off the tip of our head...welcome to Dayton The Home Version!
Frankly, you'll find very little different from last year's Dayton The Home Version. Same dreary avocado and harvest gold vibe, same pervasive feeling of existential despair once the initial burst of enthusiasm for the latest in stamp collections with dials wears off like cheap energy drink.

Kidding!
True, sometimes you just just have to duck outdoors to Dayton's famous loading dock for a breather, for a break from the crush of hamanity, for some respite from the ham hype and hoopla of which paradoxically we can never get enough.
Which leads us to the Dayton fleamarket, where almost anything can be had for a price, some of it actually related, if vaguely, to amateur radio. Scented candles shaped like scented candles, or beam traps if you squint. Vintage giant balls of stick gum foil, from which atisanal capacitors can be fashioned in a prepper's pinch. And then there's our broswer's delight - back numbers of Model Railroading before the House Un-American Acitvities Committee blacklisted Red Cabooses in the early 1950s.
In Dayton The Home Version, you need not be concerned about flearmarket troublemakers and hooligans, the inevitable disreputables who act all polite and look Canadian for the security cameras, only to take an extra relish packet at the snack bar and brazenly request vendors' business cards. Scroll through our virtual fleamarket at home with complete peace of mind, while laughing at the cold, hail, rain, thunder and lightning that Dayton skies can dump at a moment's notice, prompting a character like this to share his umbrella and suspiciously brighten the moment with his sunny disposition.
Free Dayton Desktop Wallpaper!





Before you scroll out to sample Dayton The Home Version, take a moment to repaper your desktop with our exclusive Ham Heritage Pattern! It was inspired by the legendary Mid-Century Modern snack bar of a vintage motorcoach line's regional hub.
Notice how the seams subtly don't even begin to match? That grotesque flaw was designed-in to subliminally disorient travelers, such that they were prone to order a second slice of coconut cake and become too bilious to complain about late buses and restrooms out of order.

HAMenities.
Some Dayton mornings you want to roll out of the sack and rock down to the Fleamarket for those Early Bird specials.
But having just arrived, you'd probably rather take a quick nap and then hole-up in your hotel room for a good extended play with the virtual bedside coin-operated woodgrain and pastel-colored electronics.

WavePrincess of London, but of course...the impeccable Beluga caviar of bedside A/V relaxation from London, England of the United Kingdom, the one with The Queen.
Dayton The Home Version accomodations proudly boast a special sparkle with these in-room entertainment centers offering efficient two-knob control and startling frequency coverage, in addition to a privacy earpiece you are asked not to take home, so the next guest can listen in polite comfort. The attractive, if vaguely disturbing earpiece also serves double duty as a microphone when calling Room Service for another bucket of quarters. Incredible. In 1971, what did they think of next?
Baby Your Rig!

Hey now, first Dayton The Home Version booth of the day.
Whoa! Looks like one nasty antibiotic growing inside a dirty old GIANT baby food jar. Maybe that's the home-grown Naturopathic Secret behind the extraordinary preservative powers of this big repurposed Glass Garage, once filled to the brim with Little Big Guy brand Snap Pea Smoothie.
Goodness knows, dirty old baby food jars have protected precious ham radio possessions since the invention of horribly rusted lockwashers, orphaned set screws and early transistors with one lead broken off that were still perfectly all-right-to-rectify diodes.
Our fine sponsors at Straine & Mashe inform us that a recent discovery of GIANT dirty old baby food jars in the cellar of a family of Extremely Big and Tall Shop patrons presented an opportunity to offer hams the perfect preservative containment for their extra radios and bigger, bulkier stuff. Besides your top-of-line spare luxury Icom , you could shove a whole decade of QSTs in one of these suckers. Or a wide-spaced ten-meter beam if you just don't give a damn!
Straine & Mashe assure us they make no effort to clean, wipe out or so much as expose the moldy baby food to air, in the interest of pampering that precious living residue variously festering in these giant jars since Gerald Ford was in the White House and wore a Whip Inflation Now button to the bewilderment of 175 million Americans.