Does the average radio enthusiast realize that the theories of Messrs. Kennelly and Heaviside established a foundation for worldwide HF (and below) communications today? My first guess would be "no". We concern ourselves with solar fluxes, A- and K-Indices, sunspot numbers, solar wind velocities, and geomagnetic storms as they pertain to talking, via the ham radio bands, with Cousin Bubba-Joe, who is located a few states over and deep down in the heart of inbred land. Finally, let's not forget how much time your significant other will graciously allocate for radio "play time" before disciplinary rolling pin deployment; no need to even turn the sucker on if the bands are deader that the aforementioned Dudes…'er…anyway, I digress.
A lot of head scratching was going on after the first successful radio tests by Marconi and others. The signals were often received beyond "line of sight" even considering knife-edge diffraction and atmospheric effects. The ranges observed were far in excess of the calculations. So, what other unexplained mechanism was at work?
As is often the case in the scientific community, different researchers postulate explanations for observed natural phenomena at approximately the same time. Messrs. Kennelly and Heaviside were indeed figuratively scratching their heads more or less simultaneously over the radio signal range question. The scientific community at large was loathe to consider a reflective layer in the lower reaches of the so-called "ether" because the concept seemed to violate the laws of physics pertaining to the speed of light. Without getting into a whole mess of equations that I am incapable of understanding, much less explaining, the reflection hypothesis required that the waves exceed the speed of light while inside the layer versus the hard vacuum of dark, cold, inhospitable, alien-infested space. The issue was solved when it was later discovered that electromagnetic radiation had a "phase velocity" and a "group velocity". Again, don't ask me to explain this concept. Now, let's get back to our Dudes…
In 1902, Mr. Heaviside, who bears a striking resemblance to Marvel Comics' "Wolverine", was a self-made electrical engineer, physicist, ginger, and mathematician. He theorized that an ionized layer of gas existed high above the Earth that served to reflect radio waves back to the ground. In that same year, Kennelly also predicted that a layer existed. Something was indeed afoot as Marconi successfully received signals transmitted from England while at Newfoundland. The theoretical zone of ionized atoms above the Earth was subsequently referred to as the Kennelly-Heaviside Layer. The glory, unfortunately, would ultimately go to British scientist Edward V. Appleton, who experimentally proved the layer's existence in 1923. In 1947, Appleton received the Nobel Prize in Physics for his work. The rarefied area is now known as the E-Region. Additional layers were added as one wasn't good enough as the kiddies started playing around with stuff above MF. For illustrative porpoises, note the following admittedly poor sketch below. I could have searched the internet for a suitable copyrighted image but got lazy and here is the regrettable result: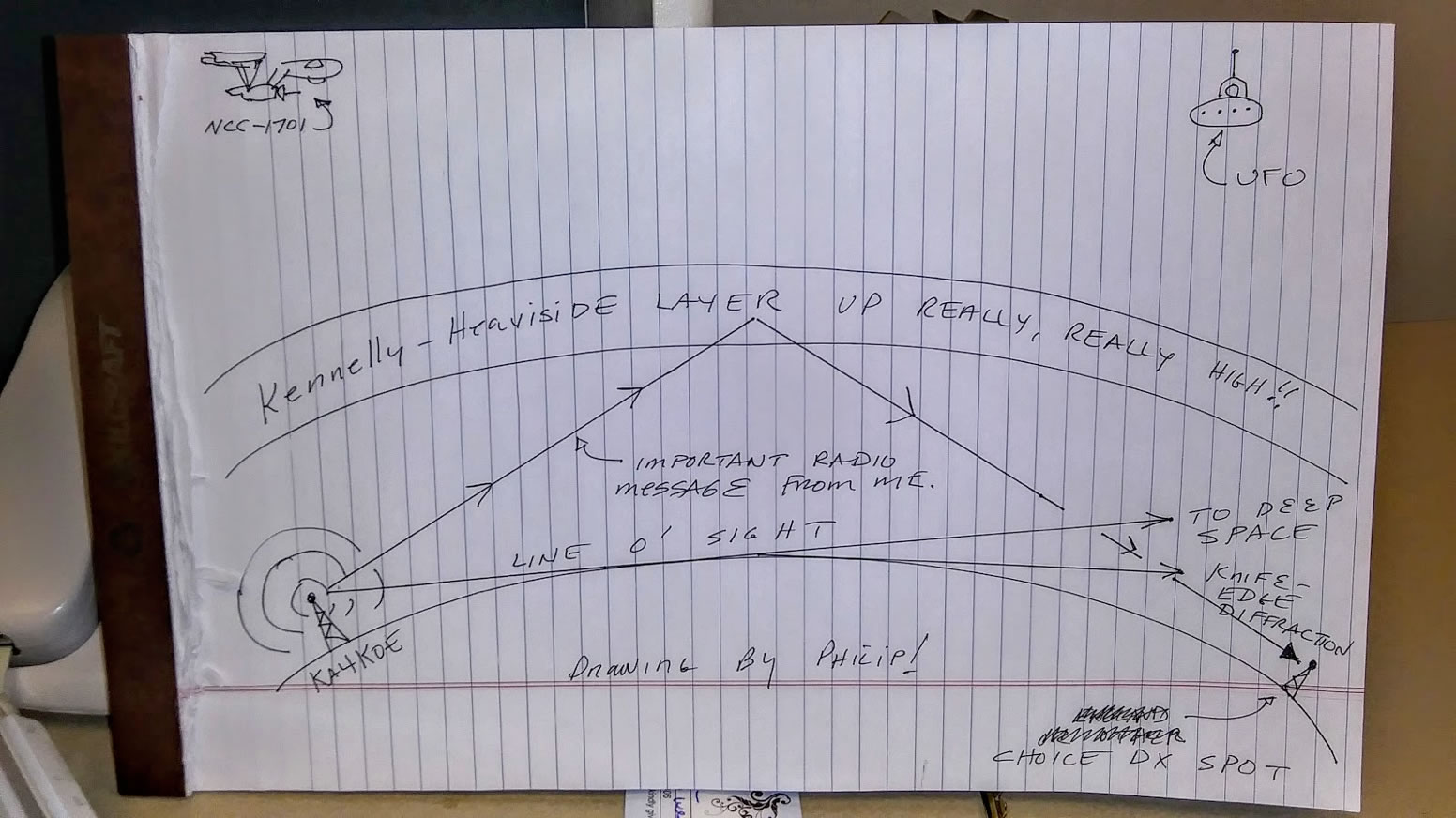 What else did our pair accomplish in their lives other than make educated musings about invisible layers above Terra Firma? Both were heavily involved in the scientific communities of late Victorian Era society.
Wolverine attended a school for girls run by his mother in his early years. A bout of Scarlet fever had left him partially deaf. The young, red-headed Oliver dropped out of school at age 16 but continued studying on his own. Fortunately for Heaviside, his uncle, Charles Wheatstone (a bridge is named after him) sponsored the eclectic lad's studies in the German and Danish languages as well as mathematics, electricity, and telegraphy. Later, as an employed telegrapher, Heaviside became familiar with the problem of transmitting messages over long distances as the information would be distorted and weakened by the various reactances present in the hard-wired circuits. Wolverine analyzed the problem mathematically and devised a working solution, thereby making possible long distance telegraphy and telephony. Mr. Heaviside also advanced the concept of electrical reactance and made significant contributions in the area of advanced mathematical analysis. Unfortunately, due to his difficult early childhood and other factors, the scientist gradually lost his marbles, became a recluse and used boulders for furniture in his home. Yes….boulders. Now on to Mr. Kennelly.
Kennelly enjoyed a storied career and participated in the current wars between Edison and Westinghouse, vis-à-vis DC vs. AC. While on Edison's team, the boys dreamed up public demonstrations of AC's supposed greater danger by electrocuting dogs, thereby convincing officials that it should be used in that nifty new tool of the penal system; the electric chair. Kennelly also published papers on the use of complex numbers, impedance, and alternating current theory. The canine torturer later served on the professorial staffs at Harvard University and the Massachusetts Institute of Technology.
Both Dudes contributed more to their fields of study than is described herein. The curious and learned reader is encouraged to perform further independent reading. Until next time, my friends, I remain
Respectfully Yours,
Philip A. Neidlinger, PE, KA4KOE
Richmond Hill, Georgia USA