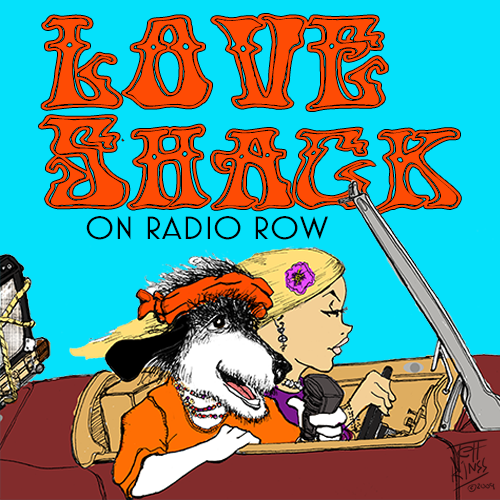 AIN'T NO CURE...
And never was for hot ham love in the summertime.
Hop in a beat Bondo-ed MGA with Justine & Dash!, two crazy smooth Jersey operators looking for 1966 Route 22 adventure beginning just this side of the Flagship on the low down end of 75 meter phone.
LOVE SHACK ON RADIO ROW is a lost world tale of footloose fancy-free ham life, a bittersweet song dedicated to all forever-young HF hearts, ever-true, never-broken.
Some of you know the name of that tune...for others, we present it best to our recollection, any resemblance strictly coincidental.
For ignition, click here and explode into space.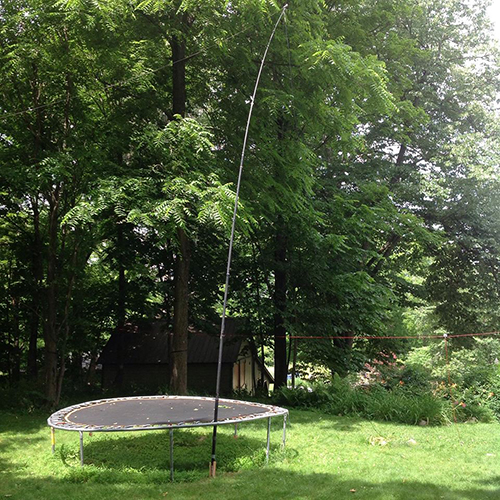 JUNE-BOUNCE!
Our imaginary radio playmate Dash! The Dog-Faced Ham came up with this new mode of improvisational HF antenna just in time for ARRL Field Day operations in Rifton ENY sectioin, just up the lane from his ancestral home of Dashville, NY.
Once heavily used by K1NSS Feral Nephews, the fallow tramp sprung to life again as as a supplementary base support for our ever-handy SpiderBeam fiberglass mast, just the ticket for our jury-rigged multiband fan dipole, fashioned from Radio Shack close out rotator cable and TV coax.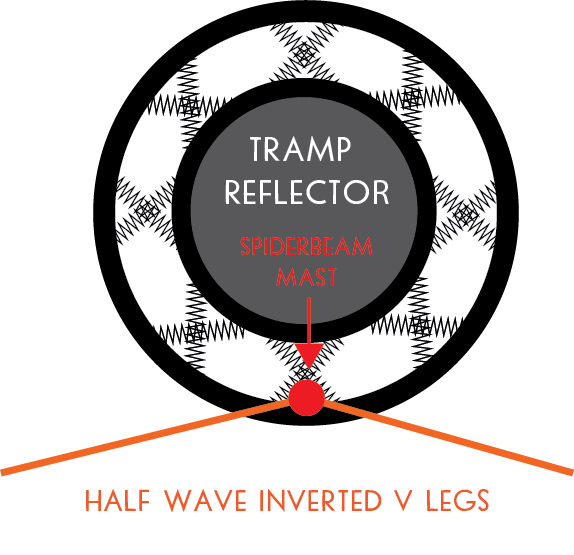 Dash! was convinced the trampoline would not only help support the mast, but boost our signals with extra english into the ionosphere, inducing significant multi-hops and sending our score to infinity and beyond.
Well, we, got Pittsburgh at night, our personal gold standard for radio/antenna performance, plus into Cali and the southwest and it was bouncy bouncy all around east of the Mississippi,
Yeah, Class 1-D, one hundred watts phone, not exactly optimum, but much fun and for the first time in his ham life, had a better idea, I think.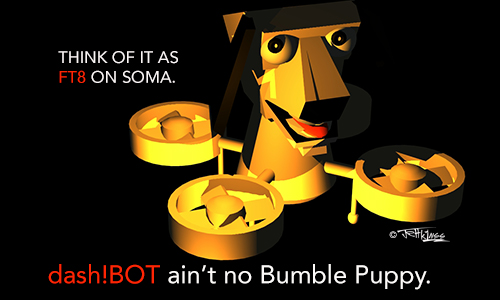 Why DARPA Hates This!
Welcome to ham radio's Brave New Wave.

Yes, dash!BOT is an amateur radio future so far out of the box, not even DARPA's Boston Dynamics has a clue. That's because they don't read much REAL speculative fiction over there, like the sequel to Aldous Huxley's "Brave New World Revisited" itself a sequel to his "Brave New World."

The apocryphal last volume of Huxley's controversial trilogy dealt with utopian ham radio, in which all rigs have been obsoleted by cyborg hybrids, part radio, part drone, part loyal companion and friend so fast, they automonously make contacts with other dash!BOTS and go fetch the QSL cards to prove it to boot.

That leaves hams with ever MORE time on their hands, which will prove a bonanza for state-sponsored Centrifugal Bumble Puppy Parlours, another leisure time sensation also predicted by Huxley's stunning vision of the future, published in 1932.

No, we didn't ghost write "Brave New Wave" at Dashtoons. But we gave it the old Cliff's Notes skim and and came away with a few schematics and before you could say "dystopia," our dash!BOT prototype was on the air, and we mean, THE AIR! 

Pardon our paradigm shift, coming soon.
QSL CONFIDENTIAL: It's all about the love.
DUAL CITIZHAM!
In Watercress Moment K1NSS Rejoins Society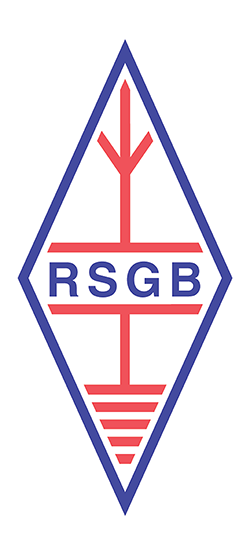 Yes UK ham pals, once again, quasi-legally at any rate, I'm just like you. Uh-huh. Just like two mushy peas in a pod. Not sure how much ice that cuts these days, but for what it's worth, I enjoy my chips with vinegar and and consider them best-wolfed from tabloid newspaper, thank you very much.
Even as a child American wireless enthusiast, I was keen on valves over tubes, Eddystone over Hallicrafters receivers, earths over grounds, aerials over antennas and the fascination with your island kingdom went back farther still.
Conan-Doyle. Penny Black postage. My favorite toy was a toss-up between a Dinky Toy Centurian tank and a medival castle with drawbridge, dungeon and a proper compliment of tin knights on horseback.
While the story on my lineage is appropriately foggy, Irish, Danish and what-have-you, the science is pretty specific. DNA test on my brother, albeit one half-step away from a Christmas cracker prize, read something like 98% English, for what that's worth.
Plus I've tramped about Pooh's Kentish Deep Woods. Rambled amongst oast houses, slouched around Bath and kept an eye out for fossils on Lyme Regis beach, not to mention hitch-hiking about back in the days of those Isle of Wight concets, the proper early 70s numbers.
In short, one of those insufferable elderly Yanks who read too much D.H. Lawrence and given half the chance would sign the Magna Carta with a Sharpie.
Please overlook all this, ok mates?
DUAL CITIZHAM!
In American Pie Moment K1NSS Returns For Slice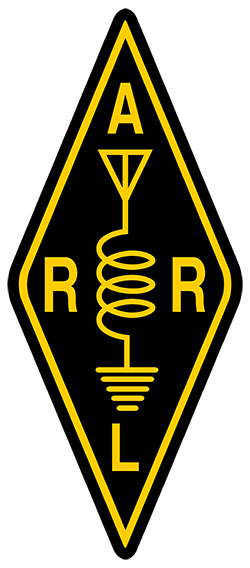 Yes I've returned to ARRL membership as well, for the third time in my episodic ham career stretching back to 1963.
Sure, pip-pip and all that sort of RSGB is fun, but there's no getting around my Jersey Boy provenance- yes THAT New Jersey with Da Shore, Da Sorpranos, Da Snooki and, I hasten to add, the Rolling Hills of Hunterdon County, versus the Channel Island of Jersey, the one I missed in visits to that charming archipelago off the coast of France.
So if you're a bro or sister ARRL member, so am I – and while we're on the subject how's the old wazoo?
When's all said and done, ARRL's fraternal howdy-doo is the mileiu in which I grew up as a ham, my nose planted in the pages of QST, a semi-lost world disarmingly cozy as Gil Gildersleeve's ham cartoons, perhaps my Greatest Strange Attractor to Amateur Radio.
Hardly gets more comical than old columns by ARRL founder Hiram Percy Maxim, the original Old Man. All right, radio was always serious stuff, especially since the early days when Mother Deep State glommed-on. For goodness sakes, radio was so serious, hams wore ties and everything – but animating it all was great good humor, so central to the hobby, I can't imagine amateur radio without it, all the horsehockey about hams not having a sense of humor aside.
Pshaw on that! I know plenty of hams who are funny as hell, many of them...GASP...members of ARRL!
Too late to nip that in the bud, eh what?
Let's roll.